Series "The Great Patriotic War 1941-1945."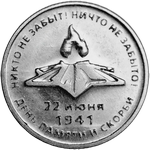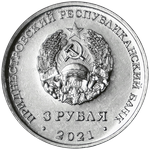 Denomination: 3 rubles
Metal: white nickel plated steel
Diameter: 24,0 mm
Weight: 5,6 g
Edge: smooth
Circulation: 5 000 pieces
Avers::in the center - the image of the State Emblem of the Pridnestrovskaia Moldavskaia Respublika; around the circle - inscriptions: at the top - «ПРИДНЕСТРОВСКИЙ РЕСПУБЛИКАНСКИЙ БАНК» (PRIDNESTROVIAN REPUBLICAN BANK), at the bottom - «3 РУБЛЯ» (3 RUBLES); in the lower part under the coat of arms - "2021".
Revers: in the center - an image of eternal fire in the form of a star and a flame; below - the inscriptions: "June 22, 1941" in two lines and «ДЕНЬ ПАМЯТИ И СКОРБИ» (DAY OF MEMORY AND SORROW) in a semicircle; in the upper part in a circle there is an inscription «НИКТО НЕ ЗАБЫТ! НИЧТО НЕ ЗАБЫТО!» (NOBODY IS FORGOTTEN! NOTHING IS FORGOTTEN!).